Public transport
The public transport system of Budapest consists of a very elaborate network of buses, trolleybuses, trams, metros and above-ground trains. The network has been designed to meet the needs of both locals and travelers.
Thus, besides the above-mentioned means of transport, tourists are highly likely to get curious about trying the funicular, the chairlift, the cogwheel and the Danube cruises made available in Budapest to tourist purposes in particular. A night service has also been put forward for people who want to explore the city regardless of the time of the day.
In order to be able to resort to all these means, tourists must purchase tickets, but this should not become an issue, since Budapest is dotted with numerous ticket sale points. Vending machines are also an option for people who want to purchase tickets, regardless of the type of ticket they want to buy. Sundry ticket sale offices can be spotted outside the administrative confines of the city.
Validating the ticket is a serious aspect no tourist should disregard. However, besides the tickets proper, the company administrating the public transport network of Budapest makes available all sorts of travel cards the validity of which ranges from 24 hours to one week. Depending on the type of cards, they can be used for all means of transport or by groups of people.
Sundry discounts are offered to tourists traveling with their family when purchasing tickets or cards for the mainstream means of transport or for the funicular, cogwheel or chairlift.
BKV
The company in charge with managing this extensive network is BKV. The vision which animates their activity is to make Budapest as accessible as possible, from a pragmatic point of view, and to endow it in such a manner as to highlight its most prized assets, from a tourist perspective.
The tourist openness of BKV is evidenced not only by the special services dedicated to meeting the exploration needs of all visitors, but also by the fact the company manages two cultural venues: the so-called Millennium Underground Museum and the Szentendre Museum of Urban Public Transport.
For complete and updated information on the full range of services, network of lines, ticket sale points, schedules, and thorough details on each and every means of public transport, use the following indications:
Name:

BKV

Address:

18, Akacfa utca, 1072, Budapest, Hungary

Telephone:

0036 1 2584636

Email:

Website: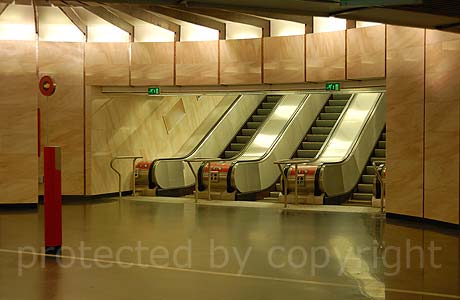 Deak Square Metro Station
By taxi
Despite the fact the public transport network in Budapest is more than satisfactory and able to meet all tourist demands, certain visitors might prefer the privacy offered by a taxi.
In Budapest, taxis can be easily spotted by their yellow license plate and a yellow taxi sign. Vehicles that do not feature these signs and pretend to offer taxi services operate illegally. All cabs are fitted with a taximeter, and tariffs must be displayed on the dashboard and on one of the rear windows.
In addition to all that, visitors must keep in mind tariffs can vary quite substantially from one company to another. In order to make the most convenient choice, tourists are advised to study their price policy.
The following is the list of the most important taxi companies in Budapest:
6x6 Taxi
Name:

6x6 Taxi

Address:

2, Kondorosi útca, 1116, Budapest, Hungary

Telephone:

0036 1 4666666

Website:
City Taxi
Name:

City Taxi

Address:

6, Vahot utca, 1119, Budapest, Hungary

Telephone:

0036 1 2111111

Email:

Website:
Taxi Plus
Name:

Taxi Plus

Address:

12-14, Varna utca, 1149, Budapest, Hungary

Telephone:

0036 1 7888999

Email:

Website:
Radio Taxi (Buda Taxi)
Name:

Radio Taxi (Buda Taxi)

Address:

1-2, Daroci utca, 1113, Budapest, Hungary

Telephone:

0036 1 7777777

Email:

Website:
Taxi 2000
Name:

Taxi 2000

Address:

13, Szolokert utca, 1033, Budapest, HungarySzolokert

Telephone:

0036 1 2000000

Website:
Fotaxi
Name:

Fotaxi

Address:

15, Kerepesi utca, 1087, Budapest, Hungary

Telephone:

0036 1 2222222

Email:

Website:
Mobil Taxi
Name:

Mobil Taxi

Address:

30, Cegledi utca, 1107, Budapest, Hungary

Telephone:

0036 1 333 2222

Email:

Website:
By car
Tourists who either get to Budapest by car or choose to rent a car will definitely be able to explore Budapest at their own pace. However, this prospect comes with a certain downside, namely, the fact Budapest is a typical large city where traffic can sometimes prove to be a lot more sluggish than expected. On top of that, parking can also become an issue.
There are, indeed, plenty of public car parks in Budapest, not to mention the parking places owned by the hotels in the capital of Hungary. However, the prices tend to vary according to the region (district) where the park is located, as well as on the duration of the parking. Thus, on weekends and public holidays, parking is free of charge, but weekdays between 8am and 6am, prices tend to increase substantially.
Some of the largest car parks and garages in Budapest are the following: Bazilika Garage, Krisztina Garage, Mercure Buda, Kastrum, Corvin Multi-storey Car Park, Lipót Garage, MOM Park, Millennium Office Towers, Páva Multi-storey Car Park, Erzsébet Square underground garage.
For complete information of the car parks and garages in Budapest, please visit Budapest Parking.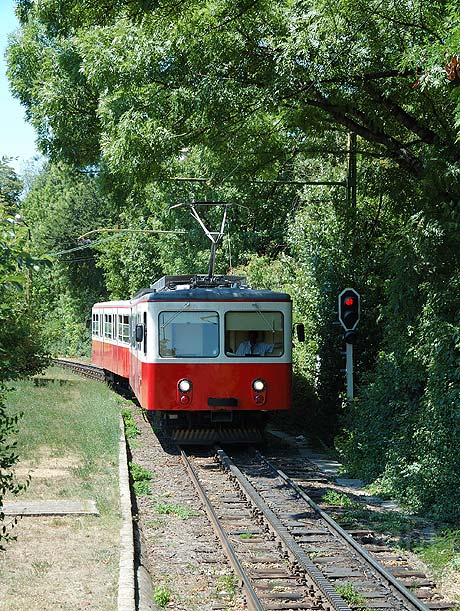 Cog Railway in Budapest
Go to top