The Hungarian Parliament is one of the most majestic political institution buildings in the world, and the breathtaking view it yields is owed both to its location (on the very bank of the Danube, though the entrance is located on the side which faces the Kossuth Square) and to the graceful and yet severe architectural style it embodies, known to people studied in the filed as Gothic Revival or Neo-Gothic.
This style stands out by two chief features: it implies the monumentality of the size of the designed structure, and a wealth of decorative elements which give the impression the structure is made of lace rather than of rough material. The decorative lushness, as well as the perishable material of which decorations are made, determine constant restoration works to be carried out at the Parliament building. The verticality of the spires is not at all disregarded, but what is atypical of the Hungarian Parliament in relation to the style it was designed in is it also features a large dome and a rather asymmetrical structure, which is less common for the Gothic Revival style.
The architect in charge with designing the building was Imre Steindl, who, amongst others, also designed the Church of Saint Elizabeth of the House of Arpad in Budapest. The construction works took 19 years, though the Parliament was officially opened in 1896, that is, 8 years before the completion of the works. The reason for bringing forward the opening was the celebration of one millennium of Hungarian culture within the Carpathians.
At present, the Hungarian Parliament is the third largest parliament building in the world, counting more than 260 meters in length, 123 meters in width and 96 meters in height. The interior features 691 rooms, and it is embellished by 152 statues. The exterior statues amount to a total of 90 works.
The tourist access to the Hungarian Parliament, as well the admission price, depends on several aspects: visitors' citizenship, the parliamentary session intervals, and on whether visitors are organized in groups or intend to make a tour individually.
Name:

Hungarian Parliament (Orszag Haza)

Address:

1-3, Kossuth ter, 1055, Budapest, Hungary

Telephone:

0036 1 4414000

Email:

Website: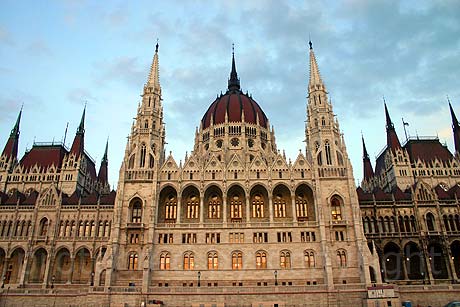 Hungarian Parliament