The Buda Castle of Budapest, otherwise known as the Royal Palace (Kiraly Palota), is one of the oldest buildings in the capital of Hungary, regardless of the numerous extension or restoration works it underwent in time, works which have significantly changed its structure and decorative quality.
The original royal residence on the site occupied by the current Buda Castle was built by order of King Bela IV, the construction works being carried out between 1247 and 1265. None of this 13th century structure has managed to survive. The reconstruction, extension and restoration works successively carried out in the 14th century (under Stephen, Duke of Slavonia), the 15th century (under Sigismund and Matthias Corvinus), in the 18th century, the 19th and the 20th century have radically changed whatever each of the previous works had resulted in.
The oldest part of the nowadays Buda Castle dates back to the 14th century, when the edifice was renowned for its majestic Gothic style, exemplary by force of its dimensions and for the thriving artistic life sheltered here, in particular during the 15th century.
The history of the Buda Castle overlaps, at least in part, the history of Budapest, reflecting both the flourishing and the gloomy periods of the city by its own moments of architectural, political and cultural renewals and administrative abandonment, pillage and complete destruction, respectively.
At present, the Buda Castle is one of the chief landmarks and attractions of Budapest, standing out not only by its historical background, but also by the fact it sets an example of marvelous embodiment of the Baroque style in architecture. It was the Habsburgs who first decided to design the palace in the spirit of the Baroque style, during the 18th century, and the subsequent reconstructions were not sidetracked from the Baroque guidelines by the temptations of other contemporary architectural styles. The former Gothic and the Renaissance styles in which the previous structures had been designed are evidenced by the recent archeological excavations.
The cultural significance of the Buda Castle is yielded by the fact it shelters three of the top museums of Budapest, namely, the History Museum of Budapest, the Hungarian National Gallery and the Ludwig Collection. On top of that, the National Szechenyi Library is also hosted here. Some of the highlights of the castle refer to the 15th century Gothic Hall, to the Matthias Fountain and to the Monument of Prince Eugene of Savoy. The latter two are but a part of the plethora of sculptural works which populate both the castle and its gardens and courts.
The Buda Castle is the very core of the namesake district (Varnegyed), and it has been declared a World Heritage Site since 1987. Other highlights of the Castle District (district I of Budapest) refer to the Church of Mathias, to the Fisherman's Bastion, but also to the fact the Budapest funicular crosses the district in order to get visitors to the Royal Palace.
Name:

Buda Castle (Budai Var)

Address:

District I, Budapest, Hungary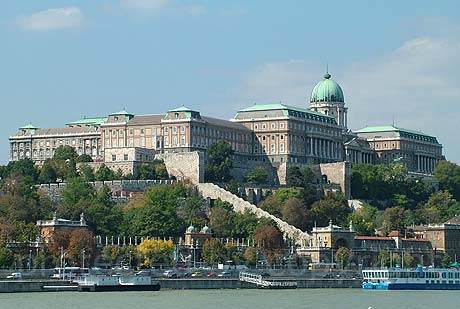 Buda Castle